Halle's Semi-Revived Alan Rickman Site

Please note: The original Rickman site was erased and so I am building up from scratch. Be aware that the site will not be the same as before - hopefully it'll be improved! But all the text I had was gone, so please bear with me...
If you can help me fill in the necessary info here, I would really appreciate it!!
---
Filmography

Michael Collins (1996)

Rasputin (1996) HBO movie for which Rickman won a Golden Globe Award.

Winter Guest (1996) (writer/director)

An Awfully Big Adventure (1995)

Sense and Sensibility (1995)

Mesmer (1994)

"Fallen Angels" TV series - epsiode entitled "Murder, Obliquely (1993)

Bob Roberts (1992)

Close My Eyes (1991)

Closet Land (1991)

Quigley Down Under (1991)


Robin Hood: Prince of Thieves (1991)

Truly Madly Deeply (1991)

January Man (1989)

Revolutionary Witness (TV) "The Preacher" segement (1989)

Spirit of Man (TV) "From Sleep and Shadow" segment (1989)

Die Hard (1988)

"Girls On Top" (TV) 2 guest appearances ("Four Play" and "Cancel Toast" both 1985)

"The Barchester Chronicles" TV miniseries (1984)

"Smiley's People" TV miniseries (1982)

Romeo and Juliet (TV) (1978)
---
Stage Credits
(note: this area is very weak, as I don't remember most of what was here before! sorry...)

The Winter Guest (director) (1995)

Shall I See You Again? (1992)

Tango at the End of Winter (1991)

Les Liaisons Dangereuses (Tony nomination)


The Lucky Chance (1984)

The Grass Widow (1984)

Bad Language (1983)

The Seagull (1982)

Desperately Yours (director) (1981)

The Devil Himself (1980)

Anthony and Cleopatra (1978)

The Tempest (1978)

Captain Swing (1978)

Saint Joan (1975)

There's A Girl In My Soup (1975)

Dick Whittington (1974)

Uncle Vanya (c. 1973)

Measure for Measure (c. 1973)

Many many thanks to B.J. and Charlene for contributing to this section

---
Biography
Alan Rickman was born in London, where he still resides, in February, 1946. He originally wanted to be an artist and attended the Royal College of Art. He received a scholarship to the Royal Academy of Dramatic Art (RADA) at age 26 and went on to appear in numerous stage works which eventually led to work in film.



---
Images



---


MICHAEL COLLINS
---

AN AWFULLY BIG ADVENTURE

---

SENSE AND SENSIBILITY
---

ROBIN HOOD: PRINCE OF THIEVES

---

MISCELLANEOUS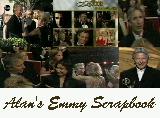 Click here for a look at an "Emmy Scrapbook" put together by KelClancy@aol.com
---

FAN ART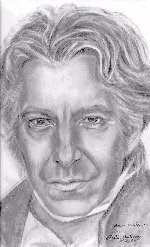 A portrait of Rickman done by Linda Dulaney. Linda welcomes orders for her artwork and would love to hear from other fans. Contact her at LDulaney@aol.com
---

Please send any contributions, comments, or questions to halle@mail.csh.rit.edu