!- Name: LEVmail.html Purpose: Mail for LEV Date: March 11, 1996 -!>
Ye need wander no longer, WEB nomad, for you have come home.
WORLD WIDE LEV
The Society for the Furtherment of Levity
The LEV_SOCIETY Post Office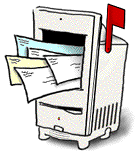 Welcome to the WORLD WIDE LEV's very own Post Office! We would love to hear from you! For information on this page or any matter regarding the WORLD WIDE LEV, please mail us at:



The LEV SOCIETY Mailbox

If you are interested in becoming a member, or if you're an old member come home again, drop us a line! Would you like to create a page for inclusion in the WORLD WIDE LEV or convert your present homepage into a very cool LEV_SOCIETY homepage? Drop us a line! If you have a legal question for us, or are interested in other such details, why don't you read the fine print ?




KEEP THE LEV!


Well, if I were you, I'd put a bookmark in this place because you'll want to return again and again. Meet the members! See the sights! Throw off the shackles of buracracy and embrace the ideals of levity, unity, harmony, and acceptance.