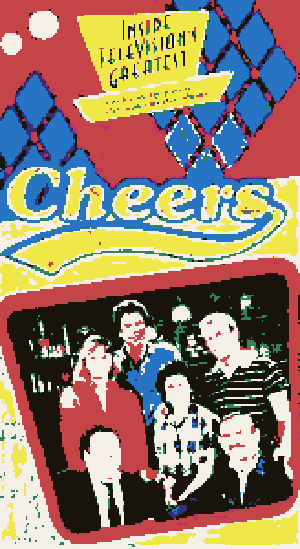 Where every body knows your name
Cheers is a TV set in a bar in Boston. I am from Boston. Cheers is a real bar in Boston called the Bull and Finch, now called Cheers. Ted Danson played Sal Malone, a catcher for the Boston Foxes. George Wendt played Nam, a Vietnam veteran and alcoholic. Ted Danson's character was also alcoholic but he was a sports man so its okay. Jose Ratzenberger played Clifford C. Clavin, a postal worker with SASS. He would SASS all the others on the show and in the bar. In reality, Cliff C. Clavin lived with his mother and was probably a sex offender.
Other people on the show include Fraiser from the TV show Fraiser, and Carla who is married to Danny DeVito. In later episodes, Woody Harrellson would dress up like Kirstie Alley and dick about in the bar, talking about drugs and sexually harrassing Shelley Long.
The show ended in 1993 after over 25 years and over 60 episodes. It would later be brought back when Jay Leno decided he didn't want to run his own show about living in a bar.
Best character on the show was Ernie 'Coach' — this lovable rogue of an old man was a coach for the baseball team that Ted Danson was on.
Theme song lyrics
Making your way in the world today takes everything you've got.
Take a break from alcoholism and smoke a lot of pot

Wouldn't you some pretzels now???

Sometimes you its fun to sing

Ted Danson's TV show called Cheers,
and they're always drinking beers.
You should ride the Red Line down,
Please don't drink and drive
You wanna change at Washington Street
For the Orange Line

You wanna go where people know,
how to ride the T,
You wanna go where everybody knows
Ted D.

— Lyrics: Morrissey, Stephen Paul.
---
Updated on September 8th 2011 for HTML5. Last updated in 2005. Best viewed using Internet Explorer 5.5 or Mozilla.


Web Counter
Navigation by WebRing.