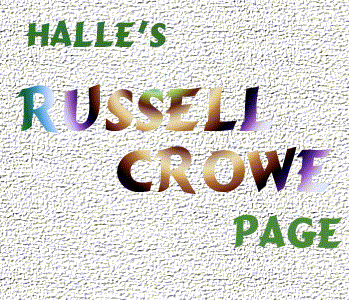 Filmography:
Heaven's Burning (1997?)
L.A. Confidential (1997)
Breaking Up (1997)
Rough Magic (1997)
No Way Back (1996) - will be premiering on HBO Virtuosity (1995)
The Quick and the Dead (1995)
For the Moment (1994)
The Silver Stallion: King of the Wild Brumbies (1994)
The Sum of Us (1994)
Love in Limbo (1993)
Red Rain (1993)
The Silver Brumby (1993)
Romper Stomper (1992)
Brides of Christ (TV) (1991)
Hammers Over the Anvil (1991)
Proof (1991)
Spotswood (a.k.a. The Efficiency Expert) (1991)
The Crossing (1990)
Prisoners of the Sun (a.k.a. The Blood Oath) (1990)

Biography:
Russell Crowe was born in New Zealand in 1964 and raised in Australia. He initially appeared in Australian television and stage productions before making his American film debut in Sam Raimi's "The Quick and the Dead." International recognition of Crowe's talent includes a 1990 Best Actor nomination by the Australian Film Institute for "The Crossing," a 1991 Best Supporting Actor award for "Proof," and the Best Actor award for 1992's "Romper Stomper." Russell also won the 1993 Best Actor award at the Seattle International Film Festival. Crowe's goal is not to become a Hollywood big name star, but to evoke enough interest to eventually return to making films "down under."
Tidbits:
Russell Crowe credits his success in American films to Sharon Stone, a woman he calls "extremely gracious." From a November, 1995 article about his receiving the role of Cort in "The Quick and the Dead": "She [Stone] was the one who was actually the catalyst, she made certain that people took me seriously and made it happen...I've done five [movies] in a row in America and it's all because Sharon Stone made that decision."

Crowe is a member of the Aussie band "30 Odd Foot of Grunts," who can be heard in "Virtuosity" on the radio in the stolen van SID drives to Madison's house. The band has released a second single and will spend March and April touring Australia. The Grunts have been together since 1984.

!!!NEW!!! Check out the Official 30 Odd Foot of Grunts Homepage!!!

Crowe turned down a bottle of French champagne at a promotional gig in Queensland - apparently he was boycotting French products in protest of nuclear testing.

Russell's thoughts on acting:
On playing SID 6.7 in "Virtuosity": "[SID] doesn't carry conscience or guilt or any of that human baggage, he operates purely on the basis of glee. Playing with SID was fun because there wasn't any of that emotional baggage with him. I didn't have to process that side of him and that's the stuff that makes roles in films like 'Romper Stomper' or 'The Sum of Us,' is what makes that different or problematic, the emotional journey for you as a person as well as you as a performer. But that's not what happened with SID, you get to work and you're going to have some fun, you know you're going to get to terrorize the piss out of a whole room of people, off you go because it's only fun, it's only performance."

On entertaining an audience: "Sometimes you can entertain people by purely having lots of bangs and crashes going on...And sometimes you entertain people by engaging their intelligence or engaging their emotions."

Check out the

Image Gallery
Sounds:
Many thanks to Anjela Conner for contributing the following sounds to this page.
From PROOF:

Cinema.wav

Andy asks Martin if he's ever been to the cinema
Andy and Martin discussing a horror film
"What sort of food do you reckon would be good for blind people?"
Andy and Martin's reactions to a car accident
"You've been blind all your life." "I know." "What were you doing driving a car?" "I forgot."
---
From ROMPER STOMPER:
"Now I'm going to tell you something and I want you to listen to me, ok? This...is not...your...country."
"Nice place you've got here."
"I think we should stick together. Past is past, right? You're all I've got left, Davey."
---
From VIRTUOSITY:
SID 6.7 counts before he shoots
"You're frightfully inadequate for a deity, Daryl."
"I think I'm gonna like it here."
---
Many thanks to berto for contributing the following sounds to this page.berto welcomes any comments from Russell Crowe fans.
From THE SUM OF US:

Dontgo.wav
Jeff pleads Greg to stay.
"How do I look, God's gift?
"No worries, Dad, everything is going to be fine."
"Oh, 'the agonizing pain' she said...I just want someone to cuddle up to."
"Size isn't everything, Harry, it's what you do with it that counts."
"I wouldn't mind seeing you in your speedos...you are on."
Jeff explains the relationship between he and his father to Greg.
Jeff's first date with Greg.
"I am making a contribution...life would be shitty without plumbers."
Another Russell Crowe page with some great pictures is available here!

This page has been accessed times since its creation at 23:00 on January 10, 1996.

Please send any questions/comments to halle@mail.csh.rit.edu

Much thanks goes out to Malvol7 and Baldrick2 for contributing to this page!

Thanks also to Lizanne Thurman for contributing!

Thanks to Matt Campbell for helping with the creation of this page.

Thanks also to Venita House for lots of the information on this page!!!

Go to Halle's GARY OLDMAN page

Go to Halle's ALAN RICKMAN page
Go back to Hallewood
If you're searching for something, try

Also check out The Unknown Psychic's Homepage for lots of fun & some terrific links.